†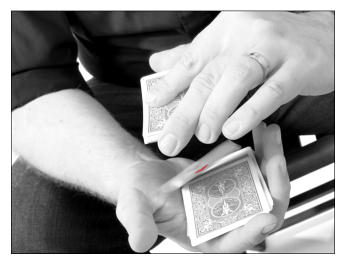 FAQ's
Do you do childrenís parties?
Sorry, no I donít. Childrenís magicians perform magic specific to childrenís attention spans and interests. That doesnít mean children get ignored or that my act isnít suitable for them. If children are present I will perform a few tricks just for them but I do not perform to children en masse. I do my best to involve everyone when I perform and not leave anyone out.
What kind of magic do you perform?
I perform close-up magic using small props and borrowed objects where the magic often happens in the spectatorís hands and right underneath their noses. I use a lot of fun and humour and Iím always aware of my audience (a family party will get a different performance to a stag night!)† I donít use a stage and donít need a table to work on. I generally perform whilst strolling or hopping from table to table depending on the setting and scenario of the function.
Alternatively I can be placed in a stationary area if this is more convenient and have the spectatorís come to me. This can encourage potential customers to attend your stall/location if at a trade show or corporate function or for guests to circulate if Iím performing at a party.
How much do you charge?
That depends on what you want, where you are, how long you want me to perform etc. As a professional my tricks, approach, social skills, technique and character have been honed over many years of performing and like anything else you get what you pay for.
Contact me with the details of your event and Iíll send you a pricelist including a guide on performance timings and details.
How do I book you?
Drop me a mail at andy@bobcatmagic.com or call me on 07866 315 525.
I request a booking fee of 20% to secure the date with the remainder paid on the day. Iíll send you a contract that details everything and contact you closer to the date to make sure all is still OK.†
What happens if you canít come or cancel?
Itís not happened yet but Iíll do my best to send someone else thatís equally as good and experienced or give a full refund.
Do you have public liability insurance?
Yes, I am fully covered up to £10million as a member of equity.
Do you have a recent CRB check certificate?
Yes, I have a clean enhanced CRB certificate which Iím happy to show you.††
Can you predict next weekís lottery numbers?
Yes, theyíre 1, 5, 23, 36, 39 and 47. If these donít work then youíve unfortunately read this on the wrong week. Keep trying as the numbers will be on here for a while and will eventually come up (probably). If they do work then I reckon Iím entitled to half of the dosh surely?
†
†